Any company's backbone is sales and marketing. They create leads and provide information about your goods to your customers. Customers may be readily won by any developing business with a competent sales and marketing staff. Let's explore what are the Key competencies of CRM software.
You may engage with your prospects via a variety of touchpoints and channels. Therefore, managing all clients, each with their own set of requirements, is a difficult job. This is where CRM comes into play. CRM software has aided companies in maintaining sales productivity and client relationships.
The capabilities of CRM software will be discussed in this article. We'll also discuss how it improves sales and marketing efficiency.
CRM Software Benefits and Key Capabilities
Any sales or marketing team would benefit from CRM software. Here are some of the advantages you may get from CRM systems' unique features.
1. Better communication
You can offer high-level services to your clients if you have CRM in place. You'll be able to talk to your consumers in real-time as well. Chatbots, live chat sessions with sales representatives, and phone conversations are some of CRM's real-time communication possibilities.
Furthermore, all of these interactions may be tracked in a single system. As a result, if you change the point of contact with your client, the new employee may review the activity history and better understand the consumer.
2. Improved Team Collaboration
A more effective team operates as a single entity. You can always have the information you need, thanks to cloud storage and a user-friendly UI. However, only the collaborators have access to the report. That is, any unauthorized individual will be unable to access CRM data.
The data is safe, and sales and marketing teams can operate more efficiently due to the ease of access. Additionally, reporting to managers and clients is simple. CRM facilitates team collaboration in this manner.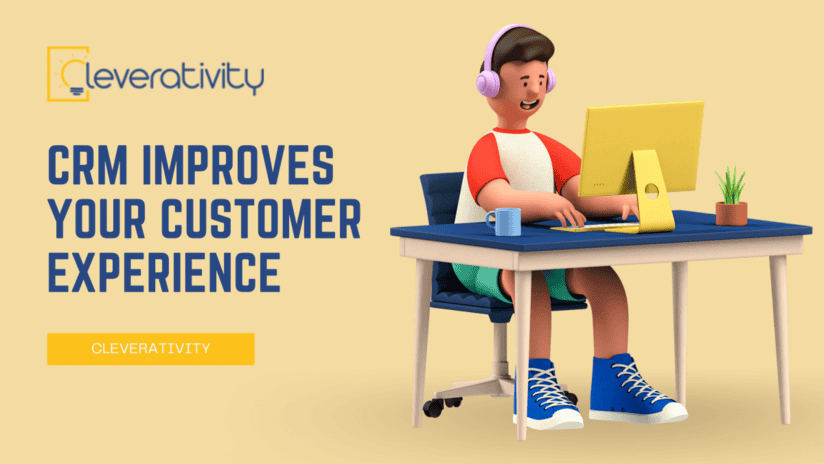 3. Interconnections
For some aspects of your company, you may be utilizing the software. RingCentral is used by sales-intensive companies, for example, for cloud calling.
The conventional method is for sales representatives to keep track of their work/call records on an excel sheet. The notes are then manually entered.
You can make this job easier for your salespeople. You can convert phone calls and even voice mails to leads by combining RingCentral with CRM. Following up on leads becomes much more accessible in this manner.
This is just one example. Several applications, including Gmail, Facebook Ads, Google Ads, and others, may be integrated with the CRM.
4. Personalization
Every firm has its own set of needs. Although consumers are at the center, engagement patterns vary. The Education sector, for example, deals with a specific set of issues. Customers, in this case, are students who need assistance.
Simultaneously, the insurance industry must cope with grownups. The leads may not want recommendations, but they would like to learn more about the product's advantages.
The idea is that excellent CRM software adapts to the needs of the company. You may tailor them to address a specific business need.
5. Client Relationships Have Improved
According to MuleSoft research, 72 percent of worldwide customers consider switching service providers due to disjointed experiences. As a result, sales representatives must have a thorough understanding of their clients to keep them happy. CRM's primary competency is improved customer relations.
You should be able to show that you care about them and that you can look after them. CRM software will assist you in forming such a bond with your consumers. It already has all of the remedies built-in for a fast response to any issue.
6. Cost-cutting
The CRM software has a purchase rate of its own. CRM solutions, on the other hand, provide a significant return on investment over time. In SaaS CRM, the investment is much lower (Software as a Service). You pay a monthly or yearly fee to utilize the program.
When it comes to cost-cutting, there is another factor to consider.
Traveling to visit customers takes a lot of time and money for field sales representatives. Consider how useful it would be if your reps could schedule meetings on a single day at a specific location. Your sales representatives may then set up meetings with prospective clients who are in the same region. It will save them time and money on travel.
7. Increased Profits
CRM Software has a lot of possibilities when it comes to productivity.
With CRM, your staff will be able to react to all of your clients ' requirements effectively. It will improve client satisfaction and increase revenue for your organization. After all, the most significant advocates are pleased customers.
As a result, you will increase your company's income and earnings in this manner.
---
Factors Before Purchasing CRM Software
Now that you know what CRM software can do, it's time to figure out what makes a CRM a good match for your company. It will assist you in choosing the finest CRM software.
1. Availability
Accessibility is an important aspect to think about. It refers to making your program accessible and valuable to the general public.
Many individuals nowadays work from home. As a result, software that requires employees to work only from their computers is ineffective.
This is somewhere SaaS (software as a service) and cloud-based applications come into play.
In the past, businesses relied on on-premise CRM solutions. They are now, however, moving to cloud platforms. It's for the sake of mobility and accessibility.
Mobile CRM is the next step in CRM technology. It's a convenient smartphone app that provides all of the CRM's essential features. With Mobile CRMs, field agents have reported a substantial improvement in productivity.
2. Reliability
CRM software, in general, may be integrated into your current infrastructure. However, it would be better if you check that the CRM you've chosen is compatible with your existing platform.
It would be better if you also verified that it works with any other third-party apps you use. Otherwise, you may find yourself in a lot more trouble. What's the purpose of investing in a CRM if it can't decrease your team's workload?
3. Software Costs
CRM software is usually tailored to the requirements of the business. As a result, the price may vary depending on the level of customization you need.
The CRM system you have chosen may offer several helpful features. If you have special needs, however, you must inform your provider.
The best way to choose a CRM would be:
Examine your requirements.
Look for a CRM that meets the majority of your requirements.
Inquire about customization choices and costs.
Before making a final choice, reevaluate the CRM system.
You may also use SaaS CRM. It's a highly cost-effective option. If it does not work for you, you may move to another alternative without incurring any costs. On-demand availability is the entire purpose of SaaS. As a result, if cost is an issue, SaaS CRM is the ideal option for you.
4. Supporting Resources
Businesses must deal with unforeseen problems. For example, the Covid-19 Pandemic quickly transformed the office-going mentality into a work-from-home one. In the absence of contingency planning, companies found it difficult to continue their normal operations in a Work-from-Home environment.
In situations like these, the help you receive from your CRM provider is critical. Although the pandemic was a once-in-a-lifetime event, additional difficulties might arise in day-to-day operations. As an outcome, you must verify that your service provider has customer success and support teams in place.
5. User-Friendly Design
Don't forget to check over the user interface of the CRM software you're considering purchasing.
Senior executives can work with virtually any user interface. Your CRM's users, on the other hand, would be salespeople. Your agents should not have to remember how to utilize the interface since it should be easy. Furthermore, your consumers may be non-technical individuals. They are unable to go into specifics if they are unable to utilize it.
The whole point of investing in a CRM is to increase the efficiency of your sales and marketing teams. If they had to fiddle with the UI, it would become a pain to use rather than a time saver.
As a result, if you choose a basic enough solution, you may save a significant amount of time. Additionally, this will motivate your staff to utilize CRM for all of their duties.
---
Final Thoughts
Nearly 90% of businesses with more than ten workers now utilize a CRM system. It demonstrates the importance of a CRM system for companies.
CRM software is essential for growing your company and maintaining positive client relationships.
Work reporting, automatic email response, a reminder system, contact management, sales analytics, and communication management are just a few features.
I hope that these points have given you a better understanding of CRM software's capabilities. You should also know what other factors to consider while purchasing a CRM.